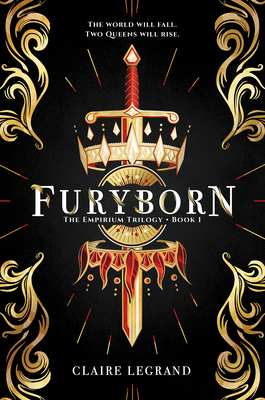 Title: Furyborn
Author: Claire Legrand
Publication Date: May 22 2018
Series: Empirium Trilogy #1
Genre: Fantasy
Rating: ★★★★
Synopsis
Follows two fiercely independent young women, centuries apart, who hold the power to save their world…or doom it.
When assassins ambush her best friend, the crown prince, Rielle Dardenne risks everything to save him, exposing her ability to perform all seven kinds of elemental magic. The only people who should possess this extraordinary power are a pair of prophesied queens: a queen of light and salvation and a queen of blood and destruction. To prove she is the Sun Queen, Rielle must endure seven trials to test her magic. If she fails, she will be executed…unless the trials kill her first.
A thousand years later, the legend of Queen Rielle is a mere fairy tale to bounty hunter Eliana Ferracora. When the Undying Empire conquered her kingdom, she embraced violence to keep her family alive. Now, she believes herself untouchable–until her mother vanishes without a trace, along with countless other women in their city. To find her, Eliana joins a rebel captain on a dangerous mission and discovers that the evil at the heart of the empire is more terrible than she ever imagined.
As Rielle and Eliana fight in a cosmic war that spans millennia, their stories intersect, and the shocking connections between them ultimately determine the fate of their world–and of each other.
---
"We all have darkness inside us, Rielle," he said, his voice rough. "That is what it means to be human."
This book was good. I enjoyed it a lot and I did get invested in the characters, so much so that I was anxiously reading wanting to know what was going to happen next. However there were a couple things that I didn't really like.
Characters
To me there were four main characters that Legrand wanted us to get to know. There was Rielle, Eliana, Simon and Audric. Yes there were only Eliana and Rielle's POV, but both Audric and Simon played important roles in both of these characters narratives.
I want to start with Rielle. Rielle is the daughter of the king's captain. She has a secret that both her and her father are keeping from the rest of the kingdom. Rielle is able to wield all 7 elemental powers with just her bare hands, something that only two prophesied queens would be able to do. Rielle doesn't want to believe that she could be one of these queens due to the fact that one is supposed to be light and the other dark. Rielle has already proved herself to be a little due to the fact that she murdered her mother when she was younger as she wasn't able to control her powers.
Rielle was not my favorite character. I kind of found her to be annoying at times. The only thing I really liked about her was when she tried to fight the darkness that inevitably always surrounded her. She was the kind of antihero that I like reading about. However I wanted her to have more development. Her whole story revolved around proving herself to be the Sun Queen which wasn't that interesting to me. It was obvious that she had a lot of power but she also didn't have any control no matter how much she tried to say she did. Rielle is a character that I think has a lot of potential to grow and become a little more complex.
Eliana was my favorite character. It's 1000 years after Queen Rielle has doomed them all and Eliana is keeping her family alive and safe by killing for the Empire. She knows what she does is wrong and yet she tries not to let it affect her. She just wants to protect her brother and mother, everyone else be damned. When her mother is captured though, she reluctantly joins forces with the Red Crown rebellion group to try and get her back. Along the way she finds out a lot about who she truly is.
Eliana is a flawed person and she knows and accepts it. She doesn't try to change or twist what she has done to somehow make it. She knows why she does what she does and that's all that matters to her. I liked Eliana a lot more than Rielle only because I already knew what was going to happen to Rielle, but you don't know what's going to happen to Eliana. Every little bit of truth is new for her and not something that she had any inkling of before. I also loved Simon. Simon was my favorite love interest and he's the one I want to know more about.
Plot/Writing
Ok my biggest point of contention with this book is the fact that it was so action packed. There weren't that many scenes with room for the characters to talk and grow and develop into something more. Every page there was action which to some people is a good thing but I didn't really enjoy it. I wished there was more dialogue. Also I didn't really like the skipping of POVs every chapter. I would rather there be two chapters of one character and then two of the next. The constant skipping around actually kind of confused me as to what was actually happening.
Another thing is that the beginning of the stories for both Eliana and Rielle is kind of slow. I didn't really get fully invested into both of them until about halfway through the book. I just didn't really know why I should care about what was going on until later in the book.
Overall Thoughts
Furyborn is a well written and planned out book that had just a few things wrong with it in my opinion. I still want to read the next books and I know that I will read them. Hopefully Kingsbane will end up being better in terms of pacing and how much actually happens in it.