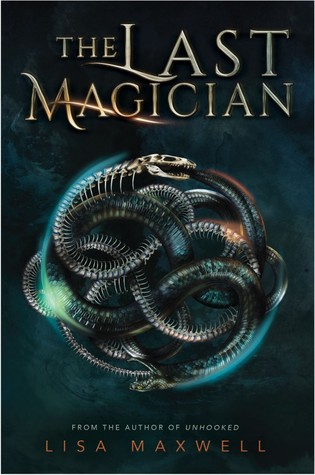 Title: The Last Magician
Author: Lisa Maxwell
Publication Date: July 18th 2017
Genre: Fantasy
Format: Physical Book
Rating: ★★★★
Synopsis
Stop the Magician. Steal the book. Save the future.
In modern-day New York, magic is all but extinct. The remaining few who have an affinity for magic—the Mageus—live in the shadows, hiding who they are. Any Mageus who enters Manhattan becomes trapped by the Brink, a dark energy barrier that confines them to the island. Crossing it means losing their power—and often their lives.
Esta is a talented thief, and she's been raised to steal magical artifacts from the sinister Order that created the Brink. With her innate ability to manipulate time, Esta can pilfer from the past, collecting these artifacts before the Order even realizes she's there. And all of Esta's training has been for one final job: traveling back to 1902 to steal an ancient book containing the secrets of the Order—and the Brink—before the Magician can destroy it and doom the Mageus to a hopeless future.
But Old New York is a dangerous world ruled by ruthless gangs and secret societies, a world where the very air crackles with magic. Nothing is as it seems, including the Magician himself. And for Esta to save her future, she may have to betray everyone in the past.
---
I'm really glad I finally read this book. It was such a luscious read, filled with beautiful writing that made me like it a lot. It is a really big book and I was little intimidated by it at first but it ended up being okay.
Characters
So first up there is Esta who is the main character of the book. She's honestly an icon and probably my favorite character in the whole book. She's such a badass and throughout the course of the book you learn so much about her and who she is. It felt like she was really thought out as a character which made reading about her very enjoyable.
Next up is our love interest, Harte. Once again let it be known that I am a hoe for tortured angsty male characters and that's exactly what Harte is. Even though he was the love interest, he was also his own character and had his own struggles and storyline which I really liked. I really liked the scenes about his mother and how much you learned from them about him. Honestly Harte is one of my favorite male characters in a while.
Plot/Writing
Both the books in this duology are really big, which was a little bit daunting at first. There was also the fact that the writing is a bit dense and difficult to get through at times, especially in the beginning. It was pretty slow in the beginning and took a while to get interesting. However, I took think that the world Maxwell created is super cool.
As for the plot, the time jumps were a little confusing at first, but they did make sense as the book went on. The last quarter of the book pleasantly surprised me and was easily my most favorite part out of the entire book. As everything was revealed I couldn't help but be shook and betrayed. The ending made me excited to read the sequel and see how everything ended up.
Overall Thoughts
I enjoyed this book a lot more than I originally thought I would. I'm hoping to read the sequel soon but I always say that about all the books that I have so we'll see when I actually get to it. One thing I didn't mention is how much I love the cover. Both covers for these books are absolutely beautiful. If you're on the lookout for some historical fantasy then I definitely recommend this book.