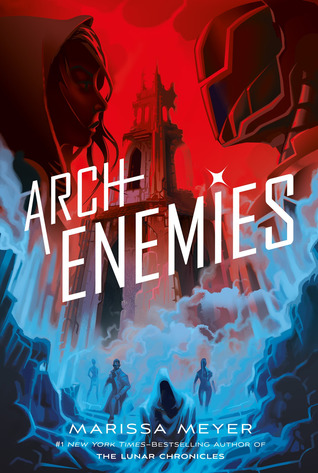 Title: Archenemies
Author: Marissa Meyer
Publication Date: November 6th 2018
Genre: Fantasy
Format: Audiobook
Rating: ★★★★
Synopsis
Time is running out.
Together, they can save the world.
But they each other's worst nightmare.
In Renegades, Nova and Adrian (aka Insomnia and Sketch) fought the battle of their lives against the Anarchist known as the Detonator. It was a short-lived victory.
The Anarchists still have a secret weapon, one that Nova believes will protect her. The Renegades also have a strategy for overpowering the Anarchists, but both Nova and Adrian understand that it could mean the end of Gatlon City – and the world – as they know it.
---
I have reviewed the first book in this series Renegades here.
I really enjoyed this book and I think it has to do with the fact that I listen to it as an audiobook. I really enjoy the different narrators for the main characters POV.
Characters
First off Nova gets even better in this book, what with her having to choose between being good or being loyal to the only family she's ever known, the Anarchists. I really enjoyed reading about here development and how she's changed over the course of the two books. I can't wait for the last to book come out so that everything will finally be revealed…
Adrian is still a sweetheart and I do enjoy him as a character, however I feel that compared to Nova his character development is kind of weak. I really hope that in the final book he really goes rogue in trying to find the truth, especially when it comes to his mother.
Plot/Writing
I still really enjoy Meyer's writing. It's really easy to read and follow along. Something I wanted to note was that the pacing of this book was a lot better than the first. I also really like the way she writes dialogue which is something that can make or break a book for me.
I think the plot of this book was much better. There was a lot more going on and I felt more invested in what the characters were doing and what was going to happen next. I really enjoyed the ending of this book. It left me wanting to know what happened next and now I can't wait to read the final book. November come faster!
Overall
I really enjoy this series and I can't wait for the last book to come out. Archenemies helped me fall in love with the characters a little bit more which is great. Nova and Adrian are so soft together and I love it. I can't wait for the final book to see how everything ends up.