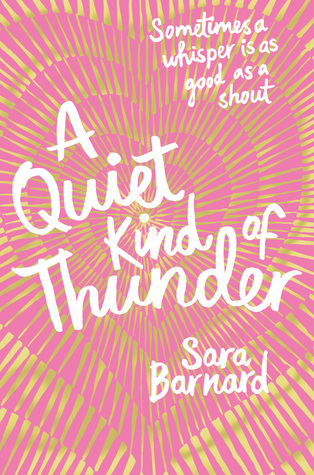 Title: A Quiet Kind of Thunder
Author: Sara Barnard
Publication Date: January 12th 2017
Genre: Contemporary
Format: E-Book
Rating: ★★★
Synopsis
Steffi doesn't talk, but she has so much to say.
Rhys can't hear, but he can listen.
Their love isn't a lightning strike, it's the rumbling roll of thunder.
Steffi has been a selective mute for most of her life – she's been silent for so long that she feels completely invisible. But Rhys, the new boy at school, sees her. He's deaf, and her knowledge of basic sign language means that she's assigned to look after him. To Rhys, it doesn't matter that Steffi doesn't talk, and as they find ways to communicate, Steffi finds that she does have a voice, and that she's falling in love with the one person who makes her feel brave enough to use it.
---
A cute light read that I finished in one sitting. It left me feeling happy and satisfied but it wasn't anything super special for me.
Characters
Steffi is our main character. She doesn't talk, not she can't talk but rather she chooses not to because she feels intense anxiety when speaking in front of multiple people or people she doesn't know. Throughout the whole book Steffi's biggest goal is proving to her parents that she can off to university by herself and that she'll be fine. I think reading about Steffi's realization and understanding of herself was the best part of the book for me. Her development was done really well and it didn't feel forced or contrived in any way.
Rhys was such a cute character. It was also great to read about a character who is completely deaf. I can't say I have read many books with characters who can't hear anything. I think it was great how Rhys stood up for himself when he felt like Steffi wasn't completely understanding some of struggles that he faced throughout the course of the book. His development was also really great.
Plot/Writing
Barnard's writing is enjoyable. It's easy to read and follow which is my favorite type of writing. Something I didn't know before starting the book was that she's British, so it was really fun to see all the UK slang that was used in the book. There were some words that I didn't know and had to look up but for the most part it was fun to read.
The plot was kind of predictable but still cute. Steffi faces challenges but she ultimately overcomes them leading to a nice satisfying ending. The way social anxiety was portrayed in the book was done really well. I also think the different way Steffi's parents handled her being mute was really accurate about how some parents can react to their child's anxiety.
Overall Thoughts
This book was an enjoyable read that left me feeling warm and cozy after finishing it. I definitely recommend it to people who like cute young love stories who also want some representation in it.
What are some of your favorite contemporary love stories?