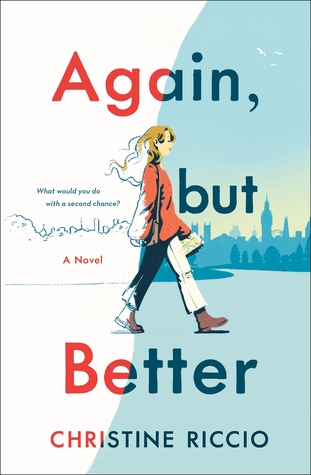 Title: Again, But Better
Author: Christine Riccio
Publication Date: May 07, 2019
Genre: Contemporary
Format: eARC
Rating: ★★★
Synopsis
Shane has been doing college all wrong. Pre-med, stellar grades, and happy parents…sounds ideal—but Shane's made zero friends, goes home every weekend, and romance…what's that?
Her life has been dorm, dining hall, class, repeat. Time's a ticking, and she needs a change—there's nothing like moving to a new country to really mix things up. Shane signs up for a semester abroad in London. She's going to right all her college mistakes: make friends, pursue boys, and find adventure!
Easier said than done. She is soon faced with the complicated realities of living outside her bubble, and when self-doubt sneaks in, her new life starts to fall apart.
Shane comes to find that, with the right amount of courage and determination one can conquer anything. Throw in some fate and a touch of magic—the possibilities are endless.
---
Disclaimer: I received an eARC of this book through Netgalley for review. Thank you Netgalley for the opportunity to read this before the release! This in no way shape or form affects my thoughts about the book.
I used to watch Christine's videos and when I heard that she was coming out with a book I was really excited. Then when I saw the cover and read the summary I was even more excited to read it. So when I was approved to read it through NetGalley, I was ecstatic. I think I had my expectations too high.
Characters
The main character Shane is studying abroad and she thinks that this is her second chance at college which she thinks she's doing wrong. She's on the pre-med track when really she wants to be a writer. I thought Shane was kind of annoying at times throughout the course of the book. Sometimes I was rooting for her and other times I thought she was being a little whiney. I do think that she had a lot of development though and I liked her more during the second half of the book.
Pilot, the love interest, was my favorite character. He was so sweet and cute. We all need a Pilot in our life.
Plot/Writing
My biggest gripe is with the writing of this book. I didn't enjoy the writing at all. It was really easy to tell this was somebody's first book. The dialogue was stilted at times which is a big pet peeve of mine. I think that dialogue should be smooth and actually follow the rhythm of a real conversation. Another thing that really irked me was the overuse of pop culture references. There were so many and it felt forced to make the book and characters relatable to the audience. It actually made me cringe at times with how many references there were.
I had some issues with the plot as I felt that magical element in the middle of the book came out of nowhere. There wasn't really any lead up to the magical aspect of the book and I thought it was weird. When it happened I was confused and didn't really know what was going on with the book. I do think that I enjoyed the first half of the book more than the latter half.
Overall Thoughts
This book could have been great if there was more anticipation before the big twist. Another thing that the book could do without is the overuse of pop culture references. However I did like the ending. I thought it was cute and satisfying. I don't think I will ever reread this book but I don't regret reading it.