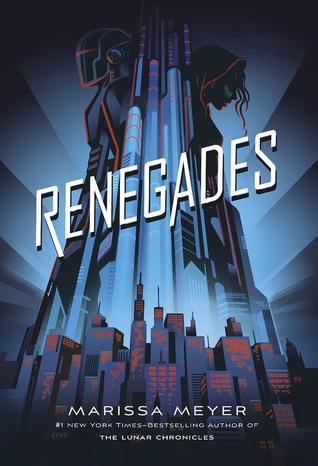 Title: Renegades
Author: Marissa Meyer
Publication Date: November 7, 2017
Genre: Fantasy
Format: Audiobook
Rating: ★★★★
Synopsis
Secret Identities. Extraordinary Powers. She wants vengeance. He wants justice.
The Renegades are a syndicate of prodigies — humans with extraordinary abilities — who emerged from the ruins of a crumbled society and established peace and order where chaos reigned. As champions of justice, they remain a symbol of hope and courage to everyone… except the villains they once overthrew.
Nova has a reason to hate the Renegades, and she is on a mission for vengeance. As she gets closer to her target, she meets Adrian, a Renegade boy who believes in justice — and in Nova. But Nova's allegiance is to a villain who has the power to end them both
---
I love Marissa Meyer's other series, the Lunar Chronicles. So I was really excited to start reading her new series. I absolutely love the covers and can't wait to see the final book's cover release.
This was the first audiobook that I have ever listened to and I really enjoyed the experience that it came with. I actually have a whole blog post dedicated to it which can be found here.
"What exactly are we looking for?

Villains, doing villainous things."
Characters
Oh how I loved these characters. They were all so different and lovely to read about much like Meyer's other series. The two main characters Nova and Adrian were definitely my favorite.
Nova was such a great character and the way her relationship with both the Renegades and the Anarchists changed throughout the course of the book had an impact on her character. She was such a badass who didn't solely rely on her ability to get her out of trouble. She also was able to think outside of the box multiple times.
Adrian, sweet summer child, Adrian. He was such a good person who tried so hard to do everything and make everyone happy. He is a good pure soul and the literal embodiment of sinnamon roll.
"One cannot be brave who has no fear."
Plot/Writing
Overall Meyer's writing is so easy to read and it flows so well. It's not very poetic or lyrical which is something I appreciate and she still gets the story across. I really like her writing and feel like no matter what she writes if her writing is the same then I can always read it.
The plot of the book was really nice. There was never a part where I felt bored by what was going on. I do think though that there wasn't as much action as I would have liked during the middle of the book. However there was a lot of character development which was really nice. The end of the book with the plot twist was something that I figured out about three quarters of the way through the book but it was still done well.
Overall Thoughts
I think Meyer did a great job setting up the first book in this series and it definitely made me want to read the second book. (spoiler I've already listened to the second book as well. I'm just really behind on my reviews….)