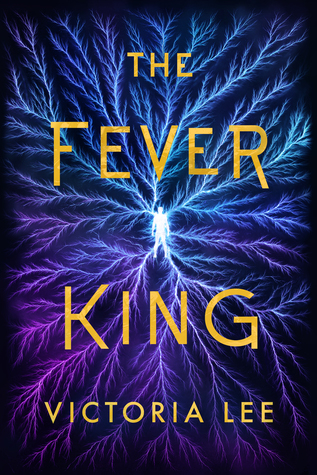 Title: The Fever King
Author: Victoria Lee
Publication Date: March 01 2019
Genre: Urban Fantasy
Rating: ★★★
Synopsis
In the former United States, sixteen-year-old Noam Álvaro wakes up in a hospital bed, the sole survivor of the viral magic that killed his family and made him a technopath. His ability to control technology attracts the attention of the minister of defense and thrusts him into the magical elite of the nation of Carolinia.
The son of undocumented immigrants, Noam has spent his life fighting for the rights of refugees fleeing magical outbreaks—refugees Carolinia routinely deports with vicious efficiency. Sensing a way to make change, Noam accepts the minister's offer to teach him the science behind his magic, secretly planning to use it against the government. But then he meets the minister's son—cruel, dangerous, and achingly beautiful—and the way forward becomes less clear.
Caught between his purpose and his heart, Noam must decide who he can trust and how far he's willing to go in pursuit of the greater good.
---
This book was so intriguing that I finished in about two sittings. I would close out of my kindle and would immediately want to know what happened next so I would open it back up and continue reading. It was just that consuming.
Characters
So we have three main characters I would say. Noam Alvaro, Calix Lehrer, and Dara Shirazi. They are the driving forces behind the story. First let's talk about Noam a disaster bi who I loved so much. He was such a great character especially with his moral compass and how he thought of things as black and white, wrong or right. You were either with him or against him. There was nothing else. It was really nice to watch him grow and change over the course of the book especially as he starts to uncover that things are not always what they seem.
Dara Shirazi, the other love of my life. Reading about his relationship development with Noam was so nice. I really liked reading about his growth as his own character as well. He went from a playboy who didn't think that he could really truly care about anyone to falling head over heels for Noam.
Calix Lehrer, wow what a character. Lee did such a great job with him as the antagonist. I definitely think he was my favorite character to read about and he was the most interesting, especially with the powers that he had and the way he seemed like a "good guy" in the beginning.
Plot/Writing
My only gripe with this book was the writing and how it could be a little heavy and hard to read at times. I didn't really understand some of the more technical parts of the book but it didn't really detract from my ability to understand what was going on in the plot. I did really like Lee's way of writing dialogue. I thought it was very smooth and lifelike.
Overall Thoughts
This book was great. I definitely think that people who like urban fantasy should read it as it does a good job of melding a post apocalyptic world with magic and the magic system is so intriguing. You can tell that Lee put a lot of thought and effort into it. I definitely recommend this book and will be looking forward to the sequel next year!